The title of this photo is 'Lockdown' and I have taken it recently to the 'Virus time' project.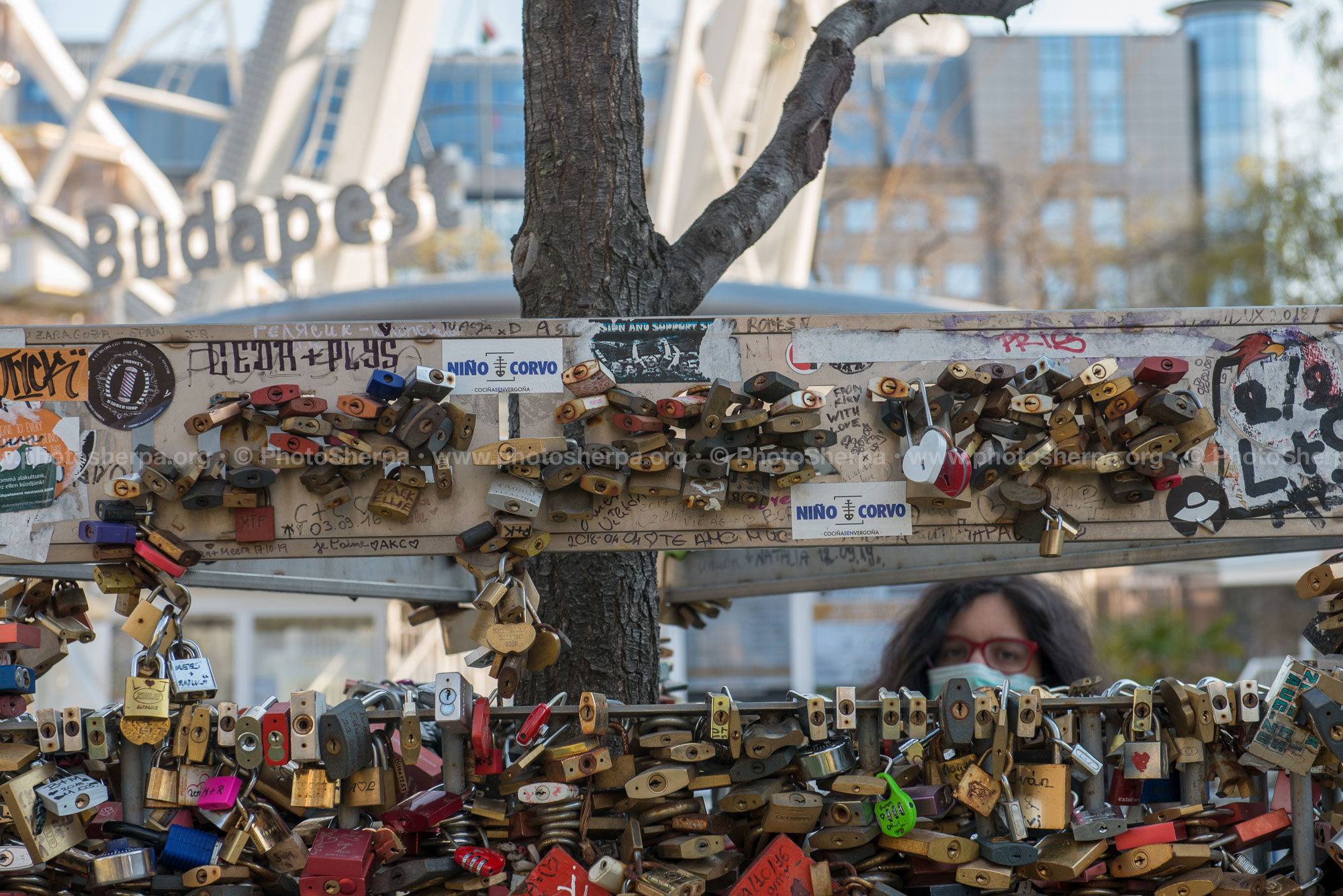 'Erzsébet tér' is a central square in Budapest. Here, young people in love with each other leave padlocks symbolising the strength of their feelings. You know this stuff from many other cities around the globe. This place here is just in front of Budapest Eye, normally full of tourists this time. Now, the whole square stands still, without people at all. On this photo a lonely young girl in mask is taking a look on the padlocks.
With focus on the multitude of colourful padlocks, the human face is slightly out of focus and the sign of Budapest blurred even more. Also, her eyes looking through a hole of the stand, a natural frame appears around the girl's head highlighting her regard. The obvious diagonal between the name of Budapest and the human face in mask links the social event to the location of the scene. In the middle of the image, the vertical shape of the tree splits the image into cells enhancing the feeling of being closed. In the background, although blurred, the truss structure system of the wheel creates a kind of discomfort.
Technical data:

And you can help
This is day 45 of the lockdown in Budapest. Virus is still spreading. Thus, people suffer in health, mental and economic terms. "The tourism industry is 'one of the hardest-hit by the outbreak of COVID-19' as lockdowns have all but ground the sector to a halt, the UN's World Tourism Organization (UNWTO) has warned." (Euronews)
Contrary to official reports, hundreds of thousands have already lost their jobs or seen their business broken down in Hungary from one day to the other. Plans B and C and Z should be set up. Mine is under construction, too:) I am coming back with new ideas and offers to you pretty soon.
Maintaining the website and services includes regular fees and living costs remain while almost all of my income have been lost for the time being. Please help with your donation if you can. Any small amount, even the cost of a coffee, or a movie ticket counts. (Cinemas are still closed anyway:) When the business was going well, I helped NGOs and the homeless with my work, indeed. And a couple of days ago, as I had no better job, I delivered masks to people around in the district as a volunteer of the local Civil Guard. But now I need your help. Please use any of the channels below.
If you think you can help, please use this link to PayPal:

Within Hungary, you can choose a simple method on Viber transferring to (06)304230390:
Or via bank transfer from anywhere:

Thank you for supporting the PhotoSherpa Virus Time project.